Sarah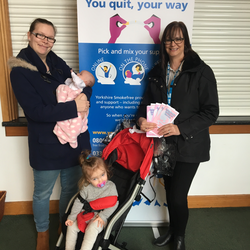 Sarah came to Yorkshire Smokefree Calderdale after a referral from her midwife, she knew quitting smoking was hard and said "I couldn't have quit by myself as I've tried before and didn't succeed."
Quitting smoking wasn't easy at first but Sarah managed it after finding the best support and nicotine replacement therapy for her.
Sarah is now over 4 months quit and managing to maintain her quit. In even happier news, she now has a beautiful, healthy and happy baby girl called Poppy.
Sarah worked with Lindsey Noel, Calderdale's Pregnancy Stop Smoking Adviser. Lindsey works very closely with Calderdales midwives to help pregnant mums throughout Calderdale quit smoking to protect their unborn babies and their own health. If you're a smoker living in Calderdale and pregnant, please do come forward and speak with Lindsey, who offers clinics across the Calderdale area.
Talk to your midwife about a referral or call us directly on 0800 612 0011 (free from landlines) or 0330 660 1166 (free from most mobiles). You can also request a callback here, and a member of our team will be in touch.