Jason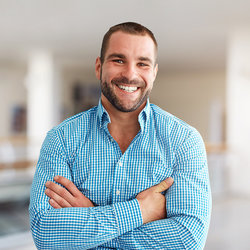 Today we're congratulating Jason for successfully kicking the habit, boosting his self-belief, and gaining a new level of fitness with the help of Yorkshire Smokefree. We chatted to him about his experiences with the service.
What was your main reason for accessing the service?
I aimed to get healthy, save money and improve my fitness. All things that were sorely lacking when I was a smoker.
I got in touch with Yorkshire Smokefree when I was researching ways to quit, I saw their website and my gut feeling was 'this is it'.
Did you believe you could make it 4 weeks smokefree?
Yes, I did believe. When I get something into my head I am quite stubborn, which I think ultimately helped me to stay determined and feel sure that I wanted to eradicate cigarettes from my life.
Have you used medication to help you quit?
I was given medication to help me quit, specifically Champix and an inhaler. These blocked the link between smoking and the pleasure responses in my brain and replaced the unhealthy smoking with instant and reducible nicotine levels (I was told by my advisor), enabling me to combat cravings on both a chemical and physical level.
I couldn't have stayed as 100% as I did without the help of medication.
Aside from medication, what did you benefit from most?
Might sound cliche but self-belief was my armour. Doubt is a choice, if I kept constantly questioning myself it would have given oxygen to the fire of self-doubt that I think some other smokers might fall prey to. I didn't give myself the option to fall back into old habits, simple as that.
Has your health improved since?
I'm out in the countryside biking every week now, which I never could have done before I got fit. My breathing has improved leaps and bounds, when I'm in sixth gear racing up the Trans-Pennine trail, I can breathe deeply and easily.
That tells me I've achieved the goal I set out to smash.
What effect did lockdown have on your quit?
It didn't really, I've been working the whole time and out and about while social distancing safely. I've been able to focus on working out, enjoying fitness and gaining confidence.
Have you achieved anything since quitting?
I'm saving so much money, it mounts up when it's not being wasted on cigarettes. It means I can afford organic food, health boosters and vitamin supplements - my health is one of my highest priorities.
What advice do you have for others looking to go smokefree?
Stop talking about tomorrow, do it and quit today!
---
If you feel inspired by Jason's story and would like support in quitting, register for a Callback Request today.