Jason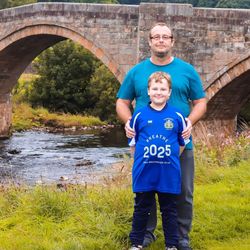 Jason from Calderdale has recently celebrated his 52-week quit status with Yorkshire Smokefree.
Jason's quit journey started when his son Joseph took park in a local 'Breathe 2025' campaign video with his local rugby team Illingworth ARLFC back in August 2017. After Joseph took part in the video, Jason decided enough was enough and he needed to give stopping smoking another go. Jason had quit before for 3 years with Champix and willpower, but now he knew he needed the help of his local Yorkshire Smokefree service.
Jason's main motivation for quitting came when he realised he was having some breathing difficulties and was getting short of breath quite easily.
After smoking for 30 years, it was hard for Jason to remember a time when he wasn't a smoker.
30 years and multiple quit attempts later, Jason joined his local stop smoking service and chose group support and Champix to help ensure he gave up for good this time.
"The group support helped as nobody wants to say they have failed but with the support from the group I was able to discuss what feeling and temptations I was having at the time."
On the 4th August 2017, Jason quit smoking for good. As more time passed by, Jason found his breathing improving which helped keep him motivated throughout.
"There are many benefits to stopping smoking but not having to leave a conversation for a cigarette is great. If I could go back I would not smoke that first cigarette as smoking can stop you doing things later in life like sport and other social activities."
A huge well done to Jason! The team at Yorkshire Smokefree Calderdale are so proud of you, you've done fantastically well. Keep it up!
Are you ready to quit smoking for good? Yorkshire Smokefree can help you. If you live in Barnsley, Wakefield, Calderdale, Doncaster or Sheffield, give us a call today on 0800 612 0011 (free from landlines) or 0330 660 1166 (free from most mobiles). You can also enter your details here and an advisor will give you a call back!