Emma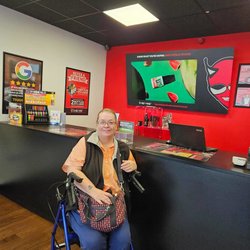 My main reason for accessing the service was my health, especially my breathing, which I struggled with then.
I have quit in the past and seen success, but I often fall back into old habits and eventually pick up the cigarettes once my health improves. I know it happens. In my past quits, I have used nicotine-based products like patches and lozenges, which mostly work primarily with nicotine patches. Still, eventually, I returned to smoking for one reason or another.
I have tried disposable vapes but found they hurt the back of my throat, which put me off vapes, and I've always stuck with the more traditional nicotine products when engaging in a quit attempt.
Due to my breathing, I knew I needed to stop and decided to use the 24-hour patches and lozenges that I had left over from a previous quit and managed to get down to 8 cigarettes per day with no other support. After finding some success and improvement in my breathing, I contacted Yorkshire smoke-free Calderdale, which I had used in the past, and sought further support and encouragement.
During my initial consultation, I was told about the vaping pilot available to Calderdale residents. Even though my experience with disposables wasn't great, I thought I'd give it a go, especially with it being supported and backed by the NHS.
At this stage, I still had leftover patches and planned to use these in conjunction with the vape, but this did not happen as I switched more and less straight away to the vape the next day.
My experience with Totally Wicked has been tremendous, and I've collected and used the products with ease. I haven't found the Skope S or its liquids harsh to the back of my throat. If anything, I like them, especially the strawberry-flavoured liquid. I have been surprised by how suited I have been to the vape and feel that, at this moment, a vape fits me, and I've managed to remain quit since the 5th of July 2023.
Since stopping smoking, it's like a brick has been removed from my chest; with this, I can breathe and move more freely. Looking back to when I was smoking, I often found my chest was heavy, my breathing felt difficult, and I often had a sore throat. But since vaping, I no longer feel like this, and my chest feels much more accessible and less stuffy.
I have plenty of opportunities to smoke as I live with a smoker, but even that does not bother me anymore as I feel happy to revert to my vape when we are together and he's smoking. I am still shocked at how well I've done and can't believe how comfortable I am no longer smoking tobacco, and I can turn cigarettes down, which would have been the case in previous years.
My long-term plan is to use nothing at all, but at this moment, I plan to complete the 12-week program with Yorkshire Smokefree.
My advice to anyone doubting vapes like me would be to engage with Yorkshire Smokefree and get free support alongside the products.
Looking to find out more about our new Yorkshire Cancer Research Pilot scheme? why not contact our friendly team today?