David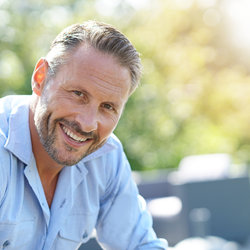 After multiple heart attacks, David successfully quit smoking with Yorkshire Smokefree. He's now enjoying a happier outlook, a healthier lifestyle and receiving all the support he needs to stay smoke free for good. We caught up with him for a quick chat.
What was your main reason for accessing the service?
My health was the biggest reason to ask for a referral to the service, after having three heart attacks in recent years and suffering from diabetes, I thought it was time to change my life before it was too late.
Did you believe you could achieve 4 weeks smoke free?
Yes, I actually did. I know most people don't say that but yes. I'm an optimist. I believed I could so I did, positivity is really a choice.
Did you use medication to help you quit?
I was prescribed Champix, which I took throughout my smoke free journey. I found them really helpful when I felt cravings getting to me and chipping away at my resistance.
Aside from medication, what else helped you?
The fact that I could get support whenever I needed it from Yorkshire Smokefree, that's the beauty of a remote service - it's available anytime.
Has your health improved since you quit?
I've noticed a big difference, I'm feeling much happier in myself, I'm able to breathe clearly when I'm out and about on walks and I'm finding I have a load more energy to enjoy my day.
Have you achieved anything since you quit smoking?
Quite a few things actually, I'm losing weight I haven't been able to shift for years, with the money I'm saving on cigarettes, I've been able to save a little extra nest egg which I'm using to renovate my home.
How has lockdown affected your quit?
It made it easier because I could no longer hang out at the pub with my friends who smoke. It limited my exposure to temptation.
What advice would you give to anyone wanting to quit like you?
It's never too late to quit smoking and get healthy, until it is. Start today before the consequences of your habits catch up with you and take your choice away.
---

If you feel inspired by David's story and would like support in quitting, register for a Callback Request today.