Beverley Whiteley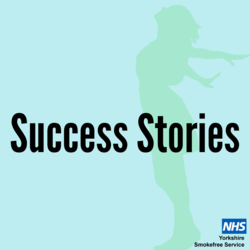 Beverley Whiteley 53 yrs
I have saved a lot of money and enjoy crafts, I have recently bought beautiful fabric and don't have to think twice about the cost. I cannot believe how second-hand smoke is incredibly potent and cannot believe that was causing this at one stage.
My grandson disliked me smoking and the smell. My grandchildren used to stand with me and I used to tell them to go indoors which made me feel like I was rejecting them. I get more time and smoke-free cuddles. My mindset has changed and I don't have to worry about smoking and it's like a relief. It's like coming about of a bad relationship, it's like you go through different stages of grief, missing it and craving it but now I'm over the hurdle and feel like I am free. I have the positives.
I know I couldn't have done this on my own - I needed the ongoing support which gave me reassurance and praise on my progress. Sharing the experience with the advisor who has gone through the process with me has given me purpose. Heather was my advisor.