Ryan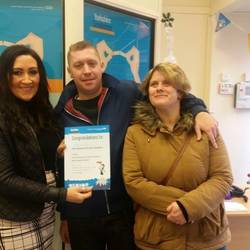 Congratulations to Ryan Lee who has become smokefree with the help of our Doncaster team.
After suffering from Asthma, Ryan made the decision to stop smoking. He wanted to save some money and improve his health. He now feels 100% better, coping well with physical activity without getting so easily out of breath and he's really happy with how he feels now.
"I realise the importance of health and being healthy, and I now know the impact smoking has."
Ryan told us the most difficult thing he found during his smokefree journey was being around his friends that still smoked, however he overcame this by not seeing them as much since quitting so he wasn't tempted to light up again.
He also told us that keeping busy, attending weekly appointments and doing the CO readings with our advisors really helped him get through his problems and found the team extremely supportive, with a good understanding of his needs.
"I couldn't have done it without the help of Yorkshire Smokefree, I can't thank them enough!"
We wish Ryan all the best for the future and a huge well done from everyone at Yorkshire Smokefree!